TMS for Obsessive Compulsive Disorder
In 2018, the FDA approved Deep Transcranial Magnetic Stimulation (dTMS) for the treatment of Obsessive Compulsive Disorder (OCD). dTMS for OCD has been shown to effectively alleviate symptoms of OCD, especially in patients who have not shown improvement from other traditional OCD treatment options.
dTMS is a non-invasive treatment option with no adverse or systemic side effects. TMS for OCD is a short out-patient treatment that can be completed in as little as 18 minutes.
The treatment utilizes a magnetic field emitted by BrainsWay's patented H7-coil to directly reach broader and deeper brain regions than its predecessors, regulating the neural activity of brain structures associated with OCD – specifically the anterior cingulate cortex and medial prefrontal cortex.
Deep TMS sessions for OCD treatment involve a brief personalized provocation, or exposure, to activate the relevant areas of the brain, followed by an 18-minute TMS treatment. A full course of BrainsWay OCD usually requires daily sessions over a six-week period.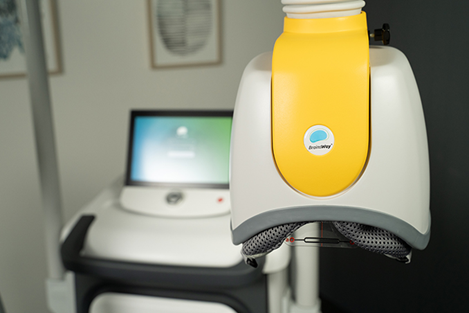 OCD Key Points
Obsessive Compulsive Disorder (OCD), is a mental disorder affecting approximately 1.2% of the population. OCD is characterized by a combination of anxiety-inducing thoughts and behavior. OCD usually arises from distressing reparative thinking.
Some common categories that stimulate OCD-related anxiety include:
Cleanliness and fear of contamination
Worrying about disastrous events
Focusing on organizing, counting, or symmetry
Taboo thoughts or mental rituals
Patients battling with OCD may find themselves in constant cycles of thoughts and compulsive behaviors. This cycle can be exhausting and cause a great deal of stress and despair.
Possible Causes for OCD
OCD has been found to be associated with a number of risk factors, such as genetics, environmental factors, temperament and critical life events. Those with OCD also often battle additional mental health conditions, with three in four having a history of anxiety disorders, and nearly one in two battling depression.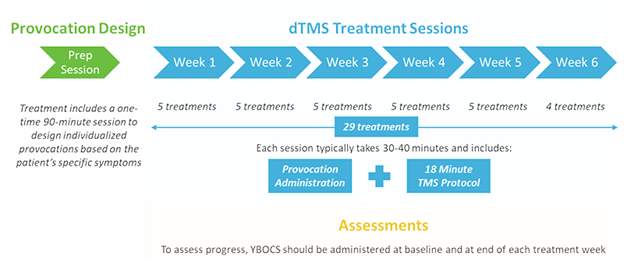 Treatment Options available for OCD
Treatment options for OCD include:
Lifestyle changes to Protect against OCD
Psychopharmacology
Cognitive Behavioral Therapy (CBT)
Exposure and Response Prevention Therapy (ERP)
Deep Transcranial Magnetic Stimulation (dTMS)
When it comes to evaluating the available treatment options for OCD, some options may not work the same way for everyone.  Patients may need to combine different modalities to reach remission and maintain long-term success.
How to Get started with TMS therapy at Beaches TMS & Brain Health
If its sounds like you might be a good candidate for TMS and would like more information, follow the next steps:
Insurance verification and preauthorization 
Schedule mapping and first treatment