DTMS for Major Depressive Disorder
Deep Transcranial Magnetic Stimulation (dTMS)  works by utilizing a magnetic field that manages to directly reach wider and deeper brain regions, regulating the neural activity of brain structures related to depression. TMS has specifically been shown to benefit patients facing treatment-resistant depression. This is particularly important for patients who have found previous medication treatments to either be ineffective or cause such severe side effects that they were unable to continue taking them.
As a non-invasive treatment, TMS can also be incorporated into existing treatments, allowing patients to continue taking antidepressant medication, participate in psychotherapy, or partake in other forms of treatment while undergoing TMS treatment. A 2019 study, published by the Journal of Psychiatric Research established this advantage, finding Deep TMS to achieve significantly higher remission rates in combination with pharmacotherapy, as opposed to pharmacotherapy alone.
Deep TMS is a well-tolerated treatment without systemic or long-lasting side effects. It does not require a significant recovery period, and the 20-min treatment can easily be integrated into each patient's day-to-day schedule.
Each patient will receive a treatment plan unique to their own needs, which may change on a weekly basis as symptoms improve. Patients can expect to come in for treatment 5 days a week for 4 to 6 weeks, followed by a tapering schedule until the total number of treatments are completed.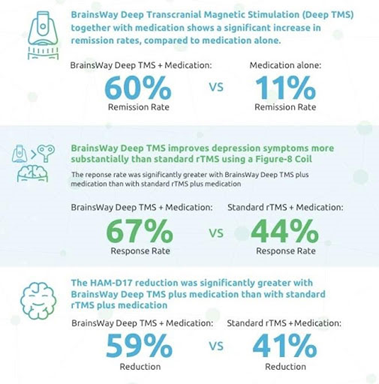 Major Depressive Disorder Key Points
Depression, or Major Depressive disorder (MDD), is defined by the American Psychiatric Association as a mood disorder characterized by a significant decrease in one's quality of life across several different field. Depression is one of the most common mental health conditions. According to the National Institute of Mental Health, depression affects roughly one in 15 adults. MDD can be incredibly debilitating if left untreated.
If you have been treated for depression without much improvement, you may have treatment resistant depression (TRD). TRD is classified as depression that has not responded effectively to at least 2-4 different antidepressants. If you believe you have TRD, please contact us to see how we can help you today!
Treatments Available for Major Depressive Disorder
Treatment Options for MDD may include:
Lifestyle Changes to Protect against MDD          

Psychopharmacology           

Psychotherapy 

Standard Transcranial Magnetic Stimulation (rTMS)

Deep Transcranial Magnetic Stimulation (dTMS)

Electroconvulsive therapy (ECT)
When it comes to evaluating and trying the available treatment options for MDD and TRD,  some options may not work the same way for everyone. Patients may need to combine different modalities to reach remission and maintain long-term success.
For more information about available treatment options please visit: https://www.brainsway.com/treatments/major-depressive-disorder/
How to Get started with TMS therapy at Beaches TMS & Brain Health
If its sounds like you might be a good candidate for TMS and would like more information, follow the next steps:
Insurance verification and pre-authorization.

Schedule mapping and first treatment